The Feast Day of Saint David of Wales, the Ninth Year in the Reign of King Richard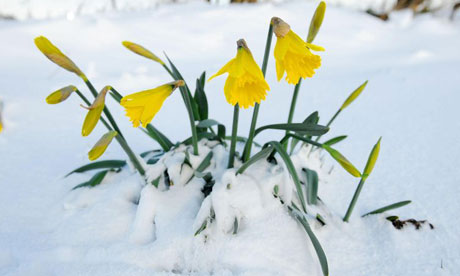 It seems when the weather is at its bitterest, God gives us the hope of Spring by pushing His flowers from the snow. For as the saying goes, "the Snowdrop in purest white arrae, first rears her head on Candlemass day." And though Candlemas is far behind us, we have enjoyed these first fruits of the earth as a feast for the eye. The snowdrop and the golden trumpet herald the coming of Spring though it is still many weeks away for the snow to melt and the dormouse to snuffle his way from his long sleep.
Jack and I keep ourselves warm spending the bitterest of days at the Boar's Tusk, where a warming fire welcomes. The boy keeps a feral eye on me, keeping me from indulging too heartily in the wine I enjoy. I suppose he is wise to do so. I must keep a clear head should a client arrive at our door, though winter seems to keep down the dull ache of mischief. Or at least those that would hire us to cure their loss.
We passed a small stand of golden trumpets peeking through the snow on our way to the tavern. They grew against the side of a shopfront, surely the remnants of garden long past. The proud yellow face looked upward, nodding to me as I passed, and on this feast day of Saint David whose flower this is–and being of Welsh ancestry myself–I smiled as I nodded back.
Jack gave me a curious look. Tut. The boy should be used to me by now.