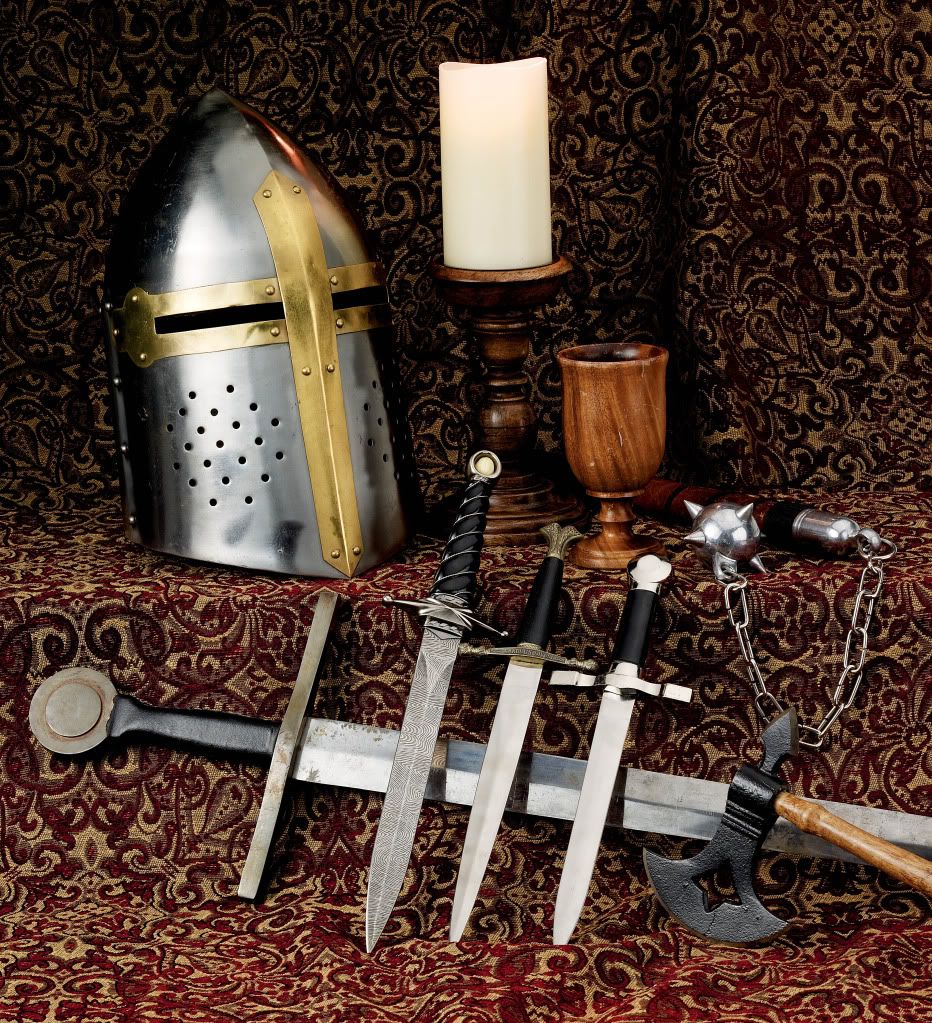 Just a few of the things I bring with me for my appearances. See a VIDEO of the stuff in action.
September 30, 2017, 9:45 a.m.-3:45 p.m. — One Day Writers Retreat in Idyllwild. Idyllwild Town Hall Recreation Center 25925 Cedar St, Idyllwild, CA 92549. $20 California Writers Club non-members. Speakers: Carolyn-Howard Johnson: Make your Media Kit & Write An Effective Query Letter; Jeri Westerson: Ten tips for Sci-Fi and Paranormal Writing; Jodi Rizzotto: First Page Critique, Your first page is your first chance to impress your reader or agent. Free for Inland Empire California Writers Club members, $10 CWC branch members, $20 non-members (morning coffee and snacks, lunch included) Pay ahead on Paypal at iecaliforniawritersclub@gmail.com. Or pay at the door by check or cash only.
Sunday, October 1, 2017, 8 am to 3 pm — Ladies of Intrigue. For aspiring crime writers and mystery novelists. A day of panels and discussion. Go to MysteryInk.com to sign up. $65 a person, lunch included. Double Tree by Hilton Santa Ana-Orange County Airport. 201 E. MacArthur Blvd., Santa Ana, CA 92707. My panel is BEHIND THE MASK with Sybil Johnson; Elizabeth Little, Patricia Wynn and
Moderator: Jeri Westerson. See that at 1:30 pm.
Tuesday, October 3, 2017, Noon — Rotary Club Monrovian Restaurant 534 S. Myrtle Ave. Monrovia, CA. Luncheon meeting. Speaking about "Writing, Research, and Everything." Books for sale.
Saturday, October 14, 2017, 2 pm — Kaufman Brentwood Branch Library. A panel with mystery authors Paula Bernstein, Nancy Cole Silverman, and Rachel Howzell Hall. 11820 San Vicente Blvd, Los Angeles, CA 90049. Free, open to the public. Books available for sale.
Saturday, October 21, 2017, 3 pm ET, Noon PT — Skyping with "Mysteries Through Time and Place" Richmond Heights Library, 5235 Wilson Mills Rd, Cleveland, OH 44143. Come to the library and join me via Skype for some interesting discussion!
***BOOKE OF THE HIDDEN TOUR***
Release date is Halloween!
FOR BLOG AND BOOK TOUR INFORMATION GO TO THE BOOKE of the HIDDEN website.
Saturday, January 6, 2018, 4 pm — Vroman's Bookstore, BOOK LAUNCH FOR SEASON OF BLOOD, the tenth Crispin Guest novel. Medieval food, mead, presentation and reading. 695 E Colorado Blvd, Pasadena, CA 91101. Please consider doing the bookstore a favor by pre-ordering ahead of time. (626) 449-5320
Sunday, January 7, 2018, 2 pm — Mystery Ink Bookstore, BOOK LAUNCH FOR SEASON OF BLOOD, the tenth Crispin Guest medieval mystery. Cake and mead, presentation and reading. 8907 Warner Ave #135, Huntington Beach, CA 92647. Please consider doing the bookstores a favor by pre-ordering ahead of time. (714) 960-4000
Be looking for other occasions and locations throughout the year where I'll be.