BE LOOKING FOR LIVE STREAMING EVENTS ON YOUTUBE AND FACEBOOK And ZOOM VIRTUAL EVENTS. 
You can subscribe to my YouTube Channel for all my videos. I'll be adding some throughout the year.
Guest Post Blog Tour for CLOCKWORK GYPSY:
You may have missed the live launches for CLOCKWORK GYPSY, my gaslamp fantasy-steampunk book, but you can read the event on Facebook and watch the video of the YouTube event on my YouTube Channel
Wednesday, December 16, 2020, 5 pm Pacific — Zoom Panel at the Pasadena Library on "Historical Holiday Traditions." Link to come. 
Tuesday, December 21, 2020, 6:30 pm Pacific — Zoom panel at the Santa Clarita Library with historical authors from the Historical Novel Society, Los Angeles Chapter. Change of plans as I'll be moderating.  bit.ly/HTHolidays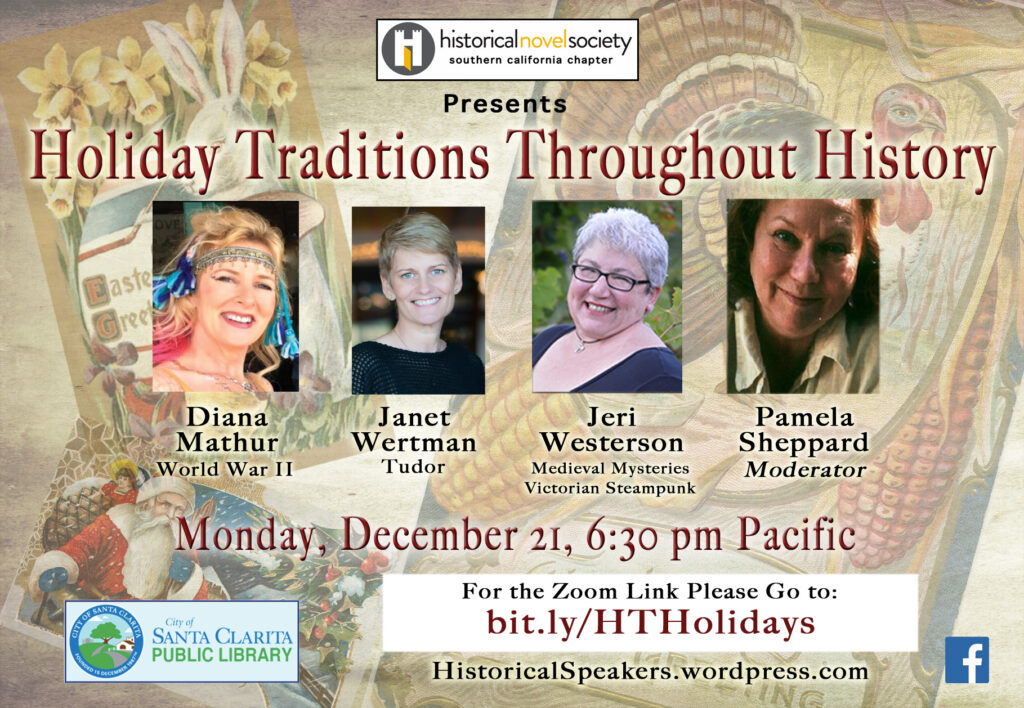 Thursday, January 7, 2021, 7 pm Pacific — Zoom Panel with the Glendale Historical Society "Life, Death, and Medicine in Victorian Times. Join me!
Monday, February 1, 2021 — SPITEFUL BONES; A Crispin Guest Medieval Noir releases in print.
Saturday, February 13, 2021, 3 to 5 pm Pacific — Zoom presentation with California Writers Club of Long Beach. I'll be zooming to you about my Crispin Guest series, my paranormal series, and my writing process. Watch this space for the link to join.
Friday, February 26, 2021 — Zoom interview "Chatting With Authors" on YouTube. Link to come.