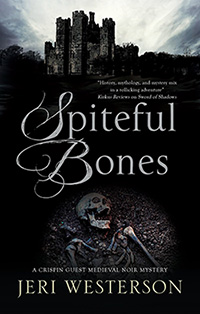 eBook Coming September 2020 — To pre-order, click on the cover
UK Print release November 2020
US Print release February 2021
Restoring his recently inherited family home from crumbling estate to grand manor, the last thing young lawyer Nigellus Cobmartin and his companion, John Rykener, needs is the addition of grim discoveries. But when workmen uncover a skeleton bound, tied and hidden in the wall—and holding the precious family relic that was stolen nearly twenty years ago—Nigellus immediately turns to Crispin Guest, Tracker of London, for help.
Whose bones are they? And why was the valuable relic buried with the thief? Crispin and his apprentice, Jack Tucker, are drawn into a crucible of dark secrets, family scandal and old grudges as they attempt to find the truth behind a pile of old bones.